Corporate Overview
Helping people with their credit for nearly 20 years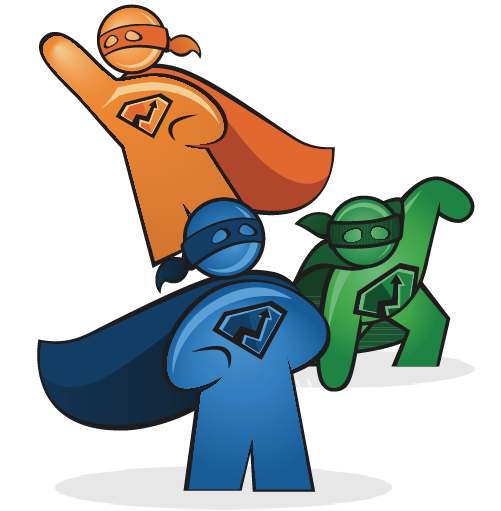 THE CREDIT PEOPLE:
"JUST YOUR ORDINARY EVERYDAY CREDIT SUPER HEROES!"
Founded in 2001, and seen in The Wall Street Journal, Smart Money, and USA Today, The Credit People® help improve your credit reports and raise your credit scores through expert credit repair services.
With 15+ years of experience helping over one hundred thousand people with their credit, we never set out to be the leaders, just the best.
Here's an inside look at our hand-picked teams:
Hiring The Credit People to improve your credit is like having a highly trained swat team on your side. (Except our swat team greets you with a smile and keeps everything simple.)
Credit Repair Team:
Disputes, and Letters, and Creditors, OH MY! Having processed over 310,000 unique credit reports, this team is your front line. Not only certified and trained in the various laws governing credit repair, such as the Fair Credit Reporting Act, The Fair and Accurate Credit Transactions Act, and the Fair Debts Collections Practices Act, but your credit repair team has required ongoing training in recent laws, statutes, and credit reporting practices.
Score Analysis Team:
No two credit reports are created equal. What affects your credit score, and how it improves, requires special attention. Just deleting negative information from a credit report without addressing the credit score is like repairing the inside of a crashed car, but neglecting to do anything about the outside appearance. Understanding debt to income ratio, credit type ratio, scoring models, and of course, credit history, is key. The Credit People have yet to see another company follow new trends as closely. This is what our score-driven results® are all about.
Support Team:
Let's face it; your credit report is all about the numbers. That doesn't mean you need to be treated like one.
Sales Team:
These are the folks that you probably signed up with over the phone. They have absolutely no sales skills, and we want to keep it that way! When you're the best choice, there's no need to be "salesy". Instead, our team is here to walk you through the credit repair process and ensure smooth sailing when you sign-up. They get things started off on the right foot!
Executive Team:
"Pay no attention to that man behind the curtain!" Our executive team consists of people who have a heart for helping people improve their credit and a mind for making it happen. Guiding the mission of The Credit People team, our executives steer the ship in the right direction, always.
Tech Team:
Yes, credit repair companies have technology teams. We take security seriously. 2048bit encryption, PCI compliance, data depository, all of this is in place to protect your important personal information.
Marketing Team:
You probably found us somehow, and that somehow was all because of our marketing team. In a way, they are the ones responsible for bringing us together! A match made in heaven.
The Credit Partners:
Our independent sales force, our "affiliates". We have an entire team devoted to just catering to the needs of our affiliates.
A DIFFERENCE YOU (AND YOUR CREDIT SCORE) WILL APPRECIATE:
While most companies try to find ways to charge more and sneak additional fees in each month, we have instead chosen to focus on perfecting our service and improving our team performance. Everything we do centers on providing excellent value and unmatched benefits to you, such as:
Lowest fee in the industry!
Credit reports and scores included
24hr account access
Unbeatable Satisfaction Guarantee®
Find more about how our credit repair service works.